about us
Established in 1987, we are a seasoned manufacturer of indoor and outdoor furniture based in Indonesia with vast experience of working with various kind of materials, namely wood, metals, rattan, Lloyd Loom, synthetic wicker, rope and many more.
Our broad range of products and expertise have allowed us to be actively involved in a wide range of projects domestically and internationally. We partner up with our clients to cater to commercial projects ranging from resorts, restaurants, and many more in-betweens all the way to furnishing the most comfortable living spaces.
We aim to produce furnitures of the finest quality that that is fairly priced. Additionally, one of our responsibility is to help our clients to decide on the right piece of furniture that fits their needs.
Our fearlessness in exploring new techniques and materials is one of our biggest strength and capital to create continuous breakthroughs.
We work extensively with local craftsmen to empower and create a healthy ecosystem within the industry.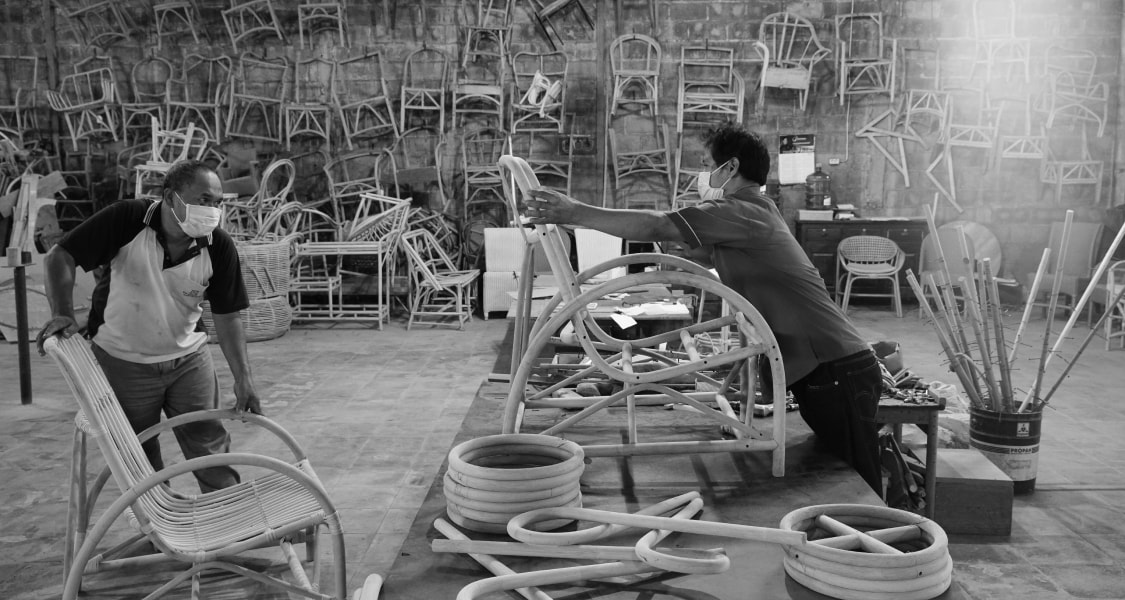 timeline history
Founded in 1987, we established our very first factory in 1995 in Cirebon, specializing in Lloyd Loom furniture combined with rattan and wooden framework.
We first expanded to semarang in 2003. We built our first facility there due to a growing demand for colonial design furniture made from recycled wood. The interest in our products kept building over the years which led us to establish our second, third, and fourth location in Semarang progressively since 2007 to support our growth.
Each separate facility has its own focus on one expertise such as metalworking, weaving, and woodworking. Most importantly, we have one dedicated facility to process all of our raw materials to ensure that utmost care is taken to prepare the material for production. All sites operate independently but cohesively in unison to create a unique product.
In 2017, we migrated from CV. Property to PT. Philnesia International and rebranded ourselves as CVP. Throughout the years, we have been constantly creating breakthroughs and innovations that enable us to further enhance our efficiency and productivity. Consequently, it has lead us to gaining ISO certification, new materials to work with, and enhance collaboration by working hand-in-hand with our partners.
1995
Factory in Cirebon established
Lloyd Loom was the first product made. We imported the materials from UK and produced the funiture in Indonesia.
2003
the forst facility in Semarang was established that specializes in metal and synthetic wicker production.
2007
The second facility in Semarang was established to supplement production to satisfy the demand of our products.
2008
The third facility in Semarang was established that specializes in metal and synthetic wicker production.
2012
The fourth facility in Semarang was established to have a dedicated facility to prepare and process raw materials in production.
Total area: 65,000m2.
2012 - present
Constantly growing to enhance workflow efficiency to meet our clients' need.
2017
Migrated from CV. Property to PT. Philnesia International and is rebranded as CVP.
2020
Gained ISO certification, expanded our materials library, and enhance collaboration by working hand-in-hand with local partners
2020 updates
new certification
We are equipped with domestic and international certifications which allows us to work with high grade timbers from all around the globe. To take it to the next level, we have recently been certified with ISO9001:2015 Quality Management certification as per March 2020.
materials
We operate with sustainability in mind. Our approach comes in many forms; one of which is to use eco-friendly, ethically sourced materials. We also implement efficient production processes that minimize waste as part of our obligation to the environment.
social compliance
We make sure to comply to all local regulations and look for ways to enrich and develop our employees and partners by providing trainings, workshops, and provide assistance in any way we can. We believe that the true assets in this industry is our people.
enhance collaboration
Working in line with the government's intention to elevate the export rate of locally-made products, we collaborate extensively with local partners and Small Medium Enterprises (SME) to share or experiences and facilities aiming for mutual growth. Together, we build to change.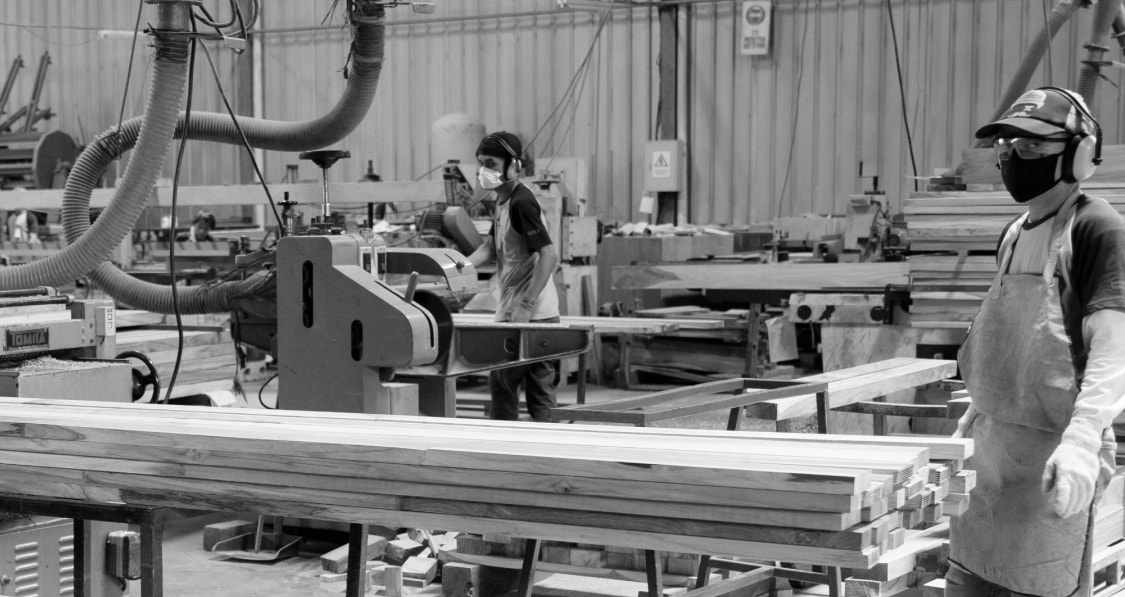 values
quality
We have an independent quality control team that oversees the entire production pipeline. The team is present all the way from material preparation to the final products. The team sets a high standard and reports directly to the directors.
delivery
Smooth collaboration between our teams is imperative to ensure an on-time delivery to our clients. That's how we build our credibility and commitment to our clients. In order to do so, we have invested in adapting an Enterprise Resource Planning system (ERP) to make sure that the production process are traceable and monitored.
market conforming price
We believe that providing quality furniture also involves our ability to be able to price the product fairly. We have a dedicated sourcing team that can access the global marketplace in order to ensure that we are obtaining materials at the right price. Our sourcing team is always on hand to also source what material you may need for your products.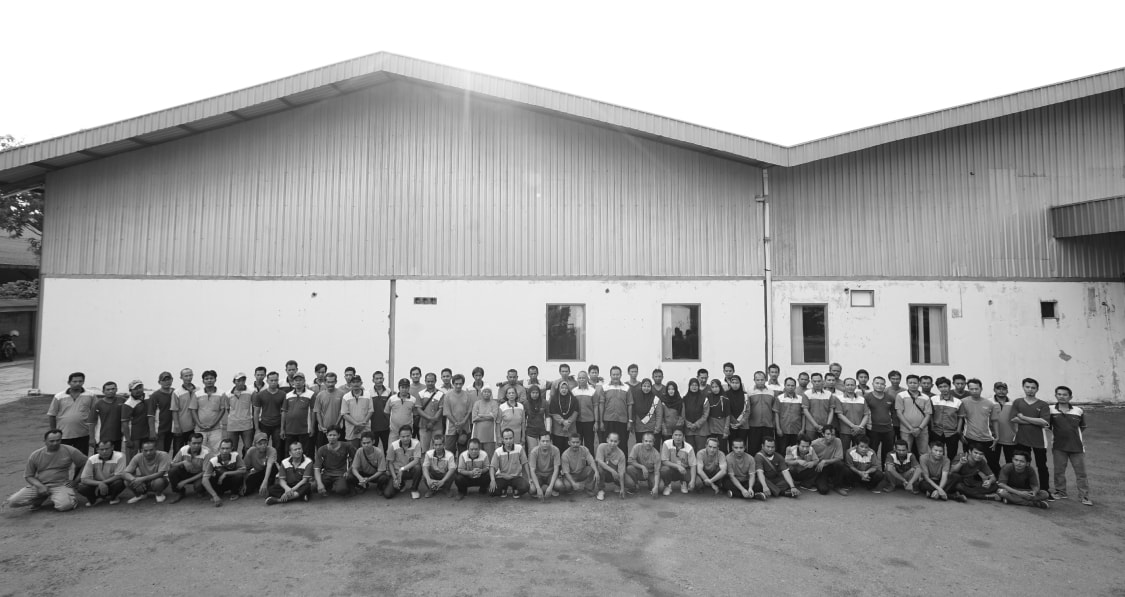 facts and figures
Our first factory is located in Cirebon, West Java, and was established in 1995 with a total land area of 15,570 m2. We established four new factories within 2003-2015 in Semarang, Central Java, with a total land area of 65,000 m2. Our facilities allows us to produce as much as 150 x 40 HC in a month to serve our clients.
facilities
Our production base is spread through numerous sites which specializes in different scopes of productions. This allows each site to fully utilize the resources available in each region to gain competitive advantage.
cvp semarang
Central Java, where Semarang is located, houses multitudes of woodworking industries in various fields. The proximity of the factory to the timber resources makes Semarang an ideal place for our production. We operate four independent facilities within the same industrial estate, with each site specializes on different areas of production. This includes wood preparation, processing, and assembly, as well as an independent metalworking and weaving facility.
Kawasan Industri Wijaya Kusuma Raya
Semarang-Kendal KM12
Jl. Industri I no. 18 Semarang,
Jawa Tengah, 50153. Indonesia.
+62-24-8664096
---
cvp cirebon
Specializes on the production of natural materials. Generations of weavers havepassed on their weaving skills and techniques throughout the years in Cirebon which has earned its international fame. We continuously work with local craftsmen to preserve and develop their skills and legacy.
Jl. Pangeran Antasari
Lurah, Kecamatan Plumbon Cirebon,
Jawa Barat, 45155. Indonesia
+62-231-247548
Experience the 360° Virtual Tour
our cirebon showroom
Immerse yourself in a simulated showroom experience, discovering our latest pieces, colours and textures up close.Using your computer mouse or touch screen device, step inside and through our freshly refurbished Cirebon showroom!
---
cvp jakarta
Our office in Jakarta handles all of our administration for export, imports, and finances. We are strategically located to access most important facilities, forwarding and logistic facilities to ensure the best handling of your shipments.
Jl. Cideng Barat No. 65B,
Jakarta Pusat, 10150. Indonesia.
+62-21-3843332
---
With decades of experience in the field, it's unquestionable that we put a lot of care and commitment into our works. We always strive for a continuous growth that will ultimately bring utmost satisfaction not only to our clients, but also to ourselves.
customer base